This project was inspired by Mia's Blog
She's uber talented, with exceptional style.
I purchased this vintage bed tray for $1.69 over 15 years ago.
Nothing wrong with it. Does the job. Blends in. No complaints.
Until I saw this photo on Mia's blog Lilla Blanka
Over there in the corner by the window...See? It's beautiful. So I got inspired. I wanted to add a Hotel name to my tray. I wanted to add one of my favorite Hotels to make it more personal. So...I called my Friend, and he made a beautiful stencil for me. And sent it, with instructions on how to use it, as it's not a normal crafty stencil.
I think it turned out lovely...don't you?
I didn't want to use a harsh black paint. So we toned it down with a bit of cream to give it a faded look. Like what you see on my French pillow in the background.
I think this tray went from boring to beautiful, and it's all thanks to some bloggie inspiration.
Thank you Mia for your inspiration. Thank you J...for the wonderful stencil and letter styling. Thank you to my hubby for helping me with this project. And for my future "Breakfast in Bed" xxx
By the way this sweet little bench at the foot of the bed is another vintage thrifted find. Years ago at a yard sale. The owner actually lowered the price after quoting me a higher amount because her "ex-boyfriend made it, and she hates him". So I gladly took it off her hands;) For a mere $3.
The cushion that sits atop was another fantastic deal at a vintage shop for $1.
I'm linking up this week to a very special blog. Sarah over at
A Beach Cottage
is having her first link party ,
I think no introduction is needed as she is very well known. She is probably the one person who inspired me to start my own blog. It's a link party with very little rules ( I like your style Sarah). Be sure to check it out, fun will ensue, I'm certain.
And to the wonderful
White Wednesday Party held over at
Faded Charm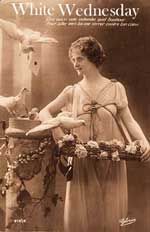 Kathleen's blog is ever inspiring of vintage loveliness. Be sure to stop by.
I'll also be linking toThe Shabby Chic Cottage
which is Gina's very cool blog. She's got the best ideas that anyone on any budget can incorporate into their home.
And to Debra over at Common Ground
Be sure to stop by her link party and blog for some vintage eye candy.
In the mood for a little French Country Charm? Stop by and visit Courtney at the French Country Cottage
Also if you love show and tell, stop by My Romantic Home
Be sure to stop by Linda's blog for a little Coastal Charm
And finally
Met Monday
See you all soon. After today I am back to work, ho hum. xxx tami